Say Hi to Payhawk Bills, a new process to automate bank payments
In general, transfers involve plenty of manual work and produce a lot of bottlenecks, primarily coming from:
An approval process before paying bills and accepting new suppliers

Manually transcribing IBANs or sort codes and payment details

Dealing with tokens and limited access in banking portals

Reconciliation of financial transactions in the company books.
Payhawk Bills gives companies the option to pay outstanding invoices directly from the product. That way the organisation has a holistic view of its payments as it combines card, cash and bank payments in a single process.
Until now, if an employee had to pay an invoice via a bank transfer, a separate process was needed. Based on our previous finding, 3 other people would have to be involved, regardless of the fact that expense approval and allocation of funds have already happened.
With Payhawk, all stakeholders follow the standard procedure as with every other expense. The company reduces complexity and all process stakeholders save time and resources.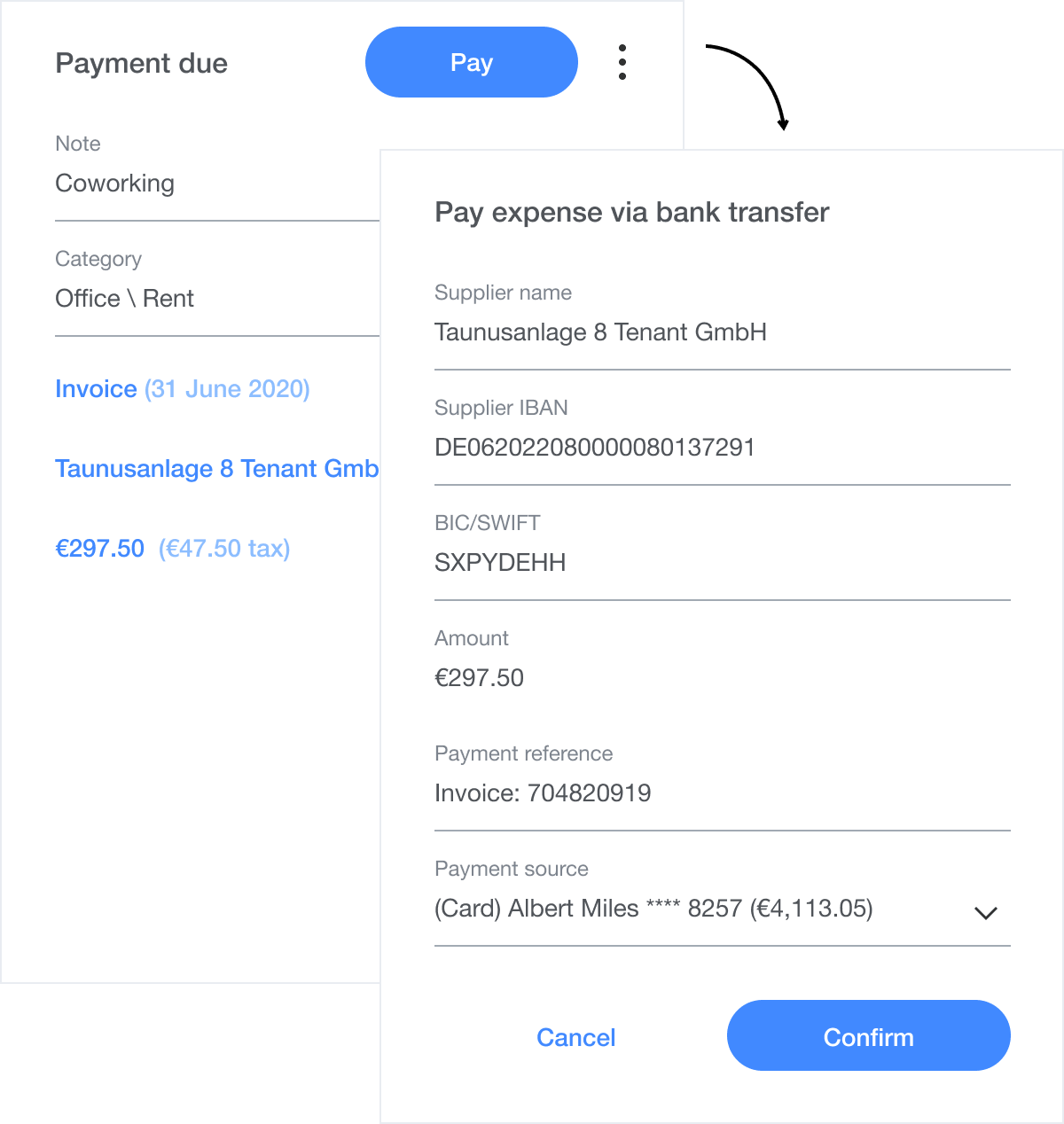 Reimburse employees with Payhawk
With Payhawk, we automate the expense management process for employees with smart company cards. However, we know that there is always an exception or a situation where you cannot pay with a company card. If you are forced to pay and wait for reimbursement, Payhawk Bills takes charge of this process and makes it easy and smooth, so that you can get your money right away, while your finance team doesn't have to deal with paperwork. 
Payhawk Bills automates this process. The stakeholders follow the standard expense management process. When an expense is marked as reviewed the finance team can select all reimbursable expenses for an employee. Payhawk calculates all exchange rates and the total. With one click, the employee gets reimbursed. And they get a real-time notification about the payment. 
Payhawk Bills is now available for all our VISA card customers with a standard SEPA transfer fee of 1 Euro. Here you can learn more about paying expenses via a bank wire with Payhawk. Here you can learn more about  reimbursing employees with Payhawk. We are working hard to deliver it for the rest of our clients until the end of the year.
Payhawk Bills also supports PSD2 payments for our German customers with over 1200 German banks. It enables them to execute their bill payments in Payhawk through their house bank. Of course, they can also reimburse their employees directly. Here you can learn more about paying expenses via a PSD2 bank integration with Payhawk. Here you can learn more about reimbursing employees via a PSD2 bank integration with Payhawk.