When it comes to managing their spending,
most companies have two basic needs.
The need for transparency
If you want to check how much your company is spending on design subscriptions, you most likely have to go through each company card that is tied to a vendor to make that calculation. The more cards you have subscribed to different vendors, the harder the task. 
Or maybe you need to make a forecast for next month's marketing expenditure. In that scenario, having a quick snapshot of your current marketing spend is a must. The problem is that at the end of the month, most companies have no clue how much they've actually spent. 
The need for control
Think of a company that has a set budget of €25 000 for project X. If there are 15 cardholders making expenses related to that project, the finance team needs to make sure that their total spending does not exceed the set budget.
Still, unexpected expenses can arise. In those instances, companies need a way to check their planned versus actual spending in real-time and increase the budget, if necessary. 
The downsides of sharing a company card 
Both needs mentioned above are traditionally addressed by the use of a shared credit card. 
The financial manager would hand out a card for 'marketing' spent and another for 'hardware purchases'. While this might remove the need for calculations, it certainly adds several complications to the equation. 
Since there is only one card, employees cannot always have access to it, which adds unnecessary steps to any payment process. Additionally, finance teams cannot be sure how much from that budget is being spent, nor by whom. At the same time, managers don't know which employee to chase for invoices for a given transaction.
That made us think of a more convenient and secure way to manage your team budgets. 
Introducing Payhawk Team Cards
We call them Team cards, but you can think of them as shared budgets that you can connect your company cards to. Every linked card has full access to the shared budget and each transaction is reflected in it.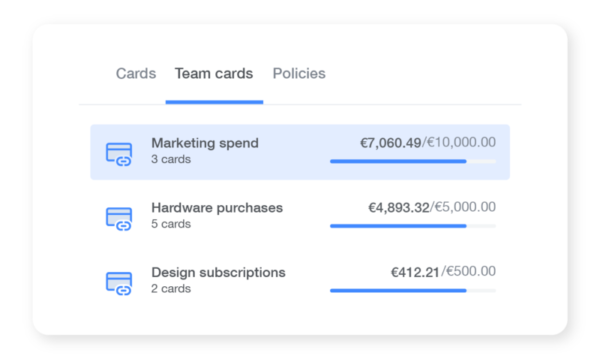 Unlike sharing a card, you can connect multiple cards to a single budget. Each cardholder has easy access to their linked card in the mobile app, making it possible to spend when needed. 
As a result, the finance team knows by whom and how much is being spent from the total budget and can easily connect each transaction with the respective linked card and responsible employee.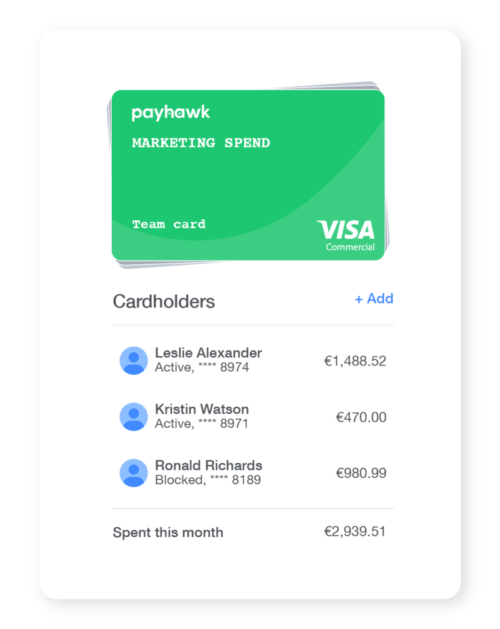 With team cards, financial managers have real-time transparency and control over their team budgets and subscriptions without the downsides of sharing an actual card. We believe this is the way modern companies should manage their spending. 
Your first team card is just a few clicks away.
If you are an existing customer, you can link your current cards to a new team card. If you just started using Payhawk, you can issue new cards and link them to your team card. 
You can read more about Team Cards in our help center. If you have any questions on how to set up your team cards, don't hesitate to contact us directly.