The European Regional Development Fund and the Bulgarian SME Promotion Agency (BSMEPA) selected Payhawk to participate in the event as one of six outstanding Fintech startups, alongside Cashwave, Apipax, Iris Solutions, Phyre, and Notolytix.
"We shape the future," is how the organisers endorse their event, and it jacks up our expectations to the maximum. Exceptional companies and individuals from Europe's and the global finance world will be drawn together and given the chance to connect and exchange ideas. J.P. Morgan, Google, London Stock Exchange and Blackrock are among the confirmed attendees.  Apart from the discussion panels, interviews, and presentations, attendees can network freely in open spaces designed to accommodate fintech-related organisations and projects. 
The agenda of the event is focused on the Fintech ecosystem. What are the new companies and products? Who are the investors? Which are the new regulations? Which markets are thrilling? And what does the future entail? 
The Fintech sector in Europe has thrived this year and we can't wait to know all the details! CB Insights mentions that in the first half of 2021, the investments in European fintech companies exceeded that of the whole of 2020, a record of USD12.8 billion, almost 1.5 times that of the full year of 2020.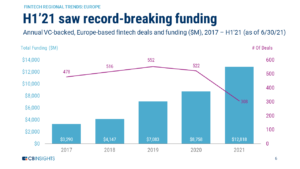 Manuel Holzer, our Commercial Director for Germany and Eleonora Georgieva, Senior Account Executive will represent Payhawk at the event. "I'm looking forward to participating in an event that would challenge the way I think about the fintech world. Certainly, looking towards making meaningful connections and introducing Payhawk's solution to Europe-based businesses," says Eleonora of her expectations about the event. "The whole event is going to be very dynamic, so we have to be well-prepared. After all, we've been entrusted by the European Commission to represent the Bulgarian fintech ecosystem." Being an integral part in shaping Payhawk's outlook for the future, Manuel trusts that he'll come back from Amsterdam even better equipped to tackle change and identify opportunities in the field. 
The hype surrounding the event is huge, and we believe that is for a reason! Follow our next blog entries to keep up with Payhawk's participation in the most talked about show in fintech.
If you are attending the event, you can reach Manuel at manuel@payhawk.com or Eli at eleonora@payhawk.com. ✉️
▹  Appreciative of BSMEPA's support:  Payhawk participates in the conference as part of project №BG16RFOP002-2.052-0002.