The easiest way to manage company finances
Payhawk combines credit cards, payments, expenses and cash into one integrated experience.
Why choose us?
All in one
One platform to manage all business spending
Full control
100% transparency of your company finances
Integrations
One-click integration with your ERP system
How it works?
Connect
Connect your traditional bank account and instantly load funds with a click
Control
Issue cards with built-in spend rules and collection of receipts
Automate
Automatically reconcile and extract data from invoices in 60+ languages
Pay
Pay invoices or reimburse employees after running an approval workflow
Go Paperless
Store receipts and invoices in a tax compliant digital archive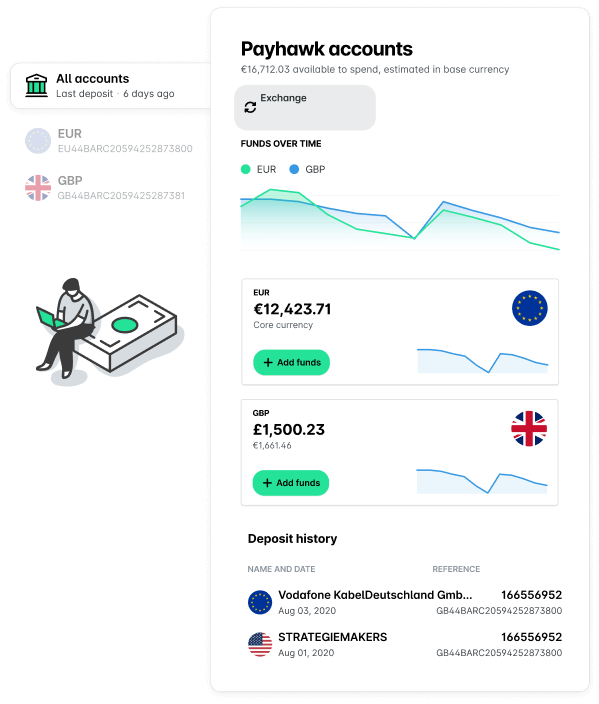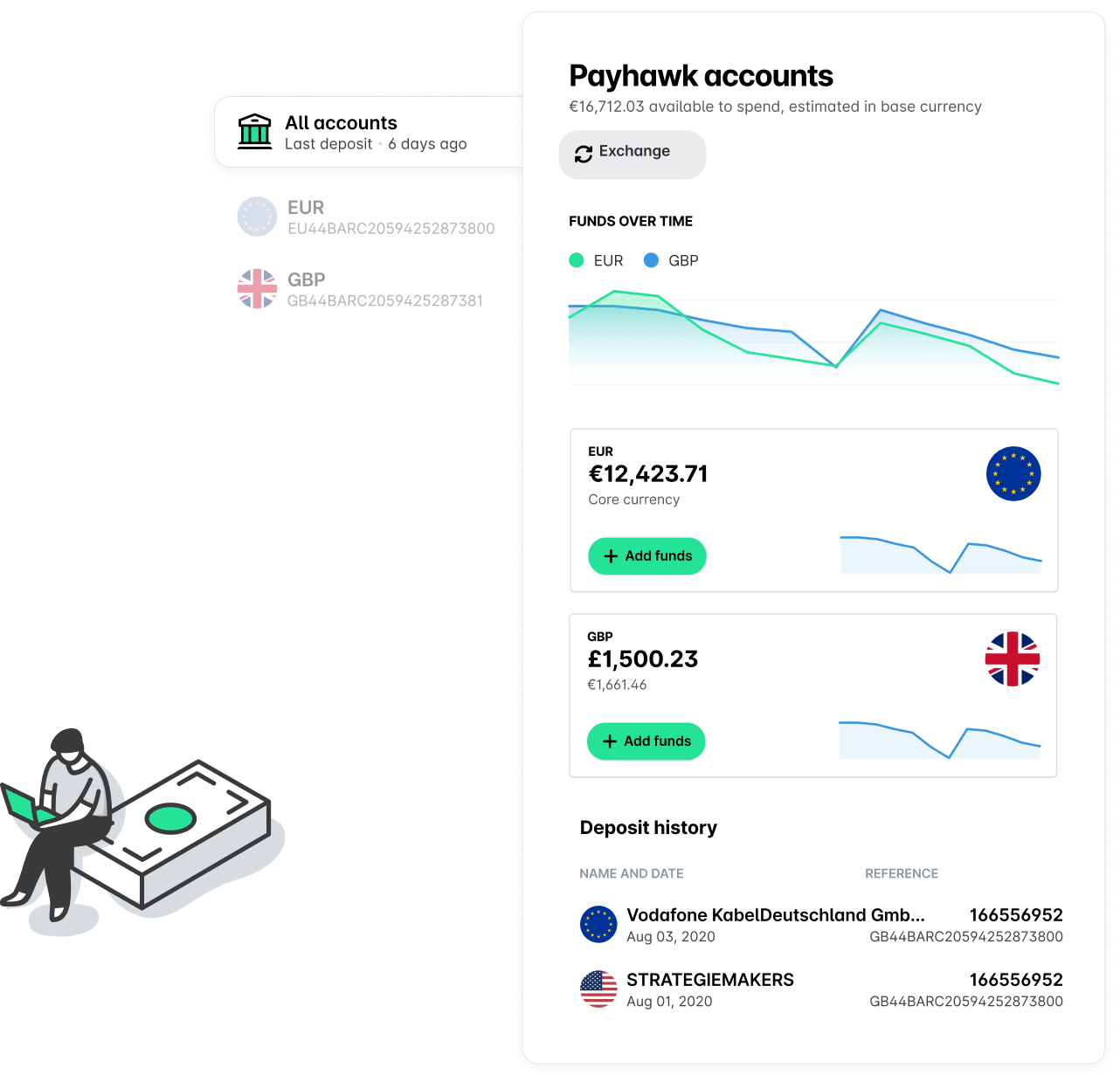 Connect
Innovation on top of traditional banks
Payhawk connects directly to more than 3,000+ banks and provides you with virtual accounts and dedicated IBANs to manage your money like never before.
The NextGen company cards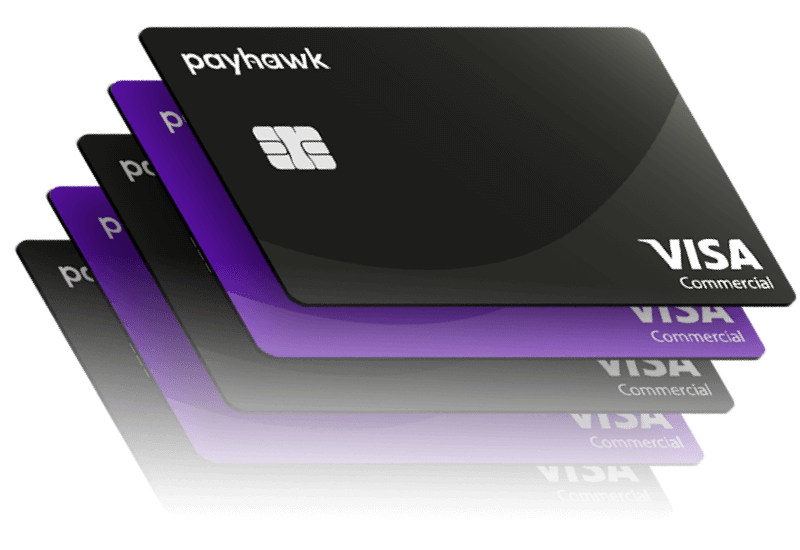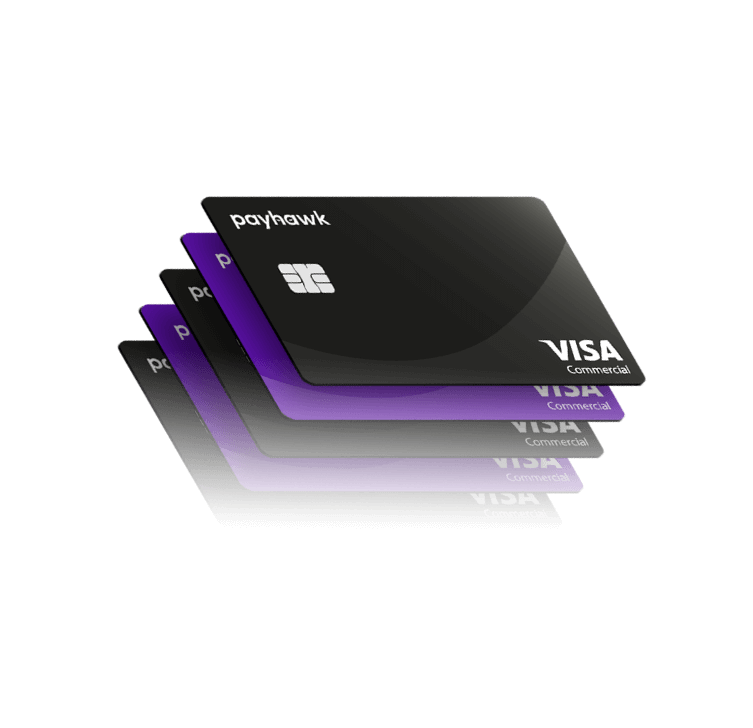 Virtual cards
Generate virtual cards for online payments. Trust employees to make payments under strict spending rules and budgets controlled by the finance team.
Physical cards
Issue best in class Visa Commercial physical cards to traveling employees. Control every payment with built-in spend rules and automatically collect outstanding receipts in real-time.
Team cards
Issue team cards for employees spending from a shared budget. Each employee receives a unique card number tied to a shared team budget. The perfect solution to manage subscriptions, marketing budgets, or project-based spending.
Spend rules
Implement your company spending policy directly on cards. Configure spend rules based on locations, budgets, merchants, spend categories and days or times when cards can be used.
Approvals
Empower employees to request funds through an approval process. Implement multi-level approval for different request thresholds.
Receipts collection
Automate expense reports with real-time transactions and collection of receipts. Stop chasing outstanding receipts to close the month.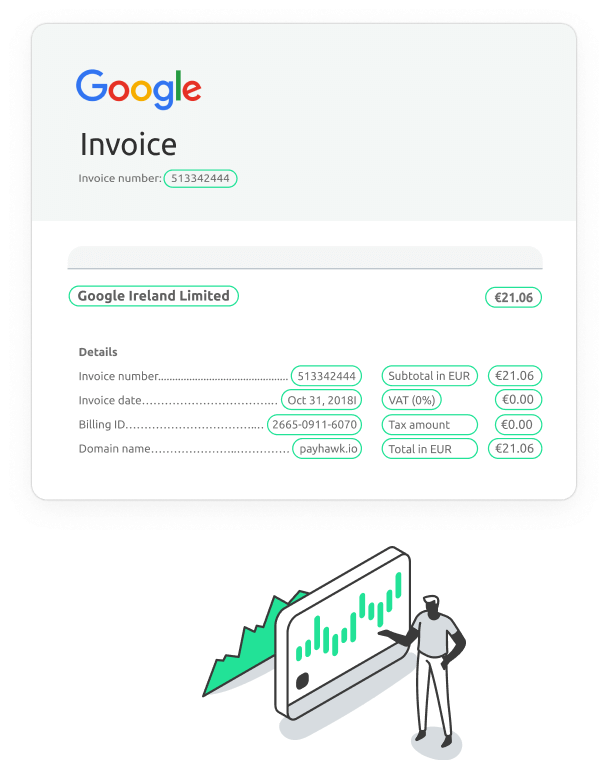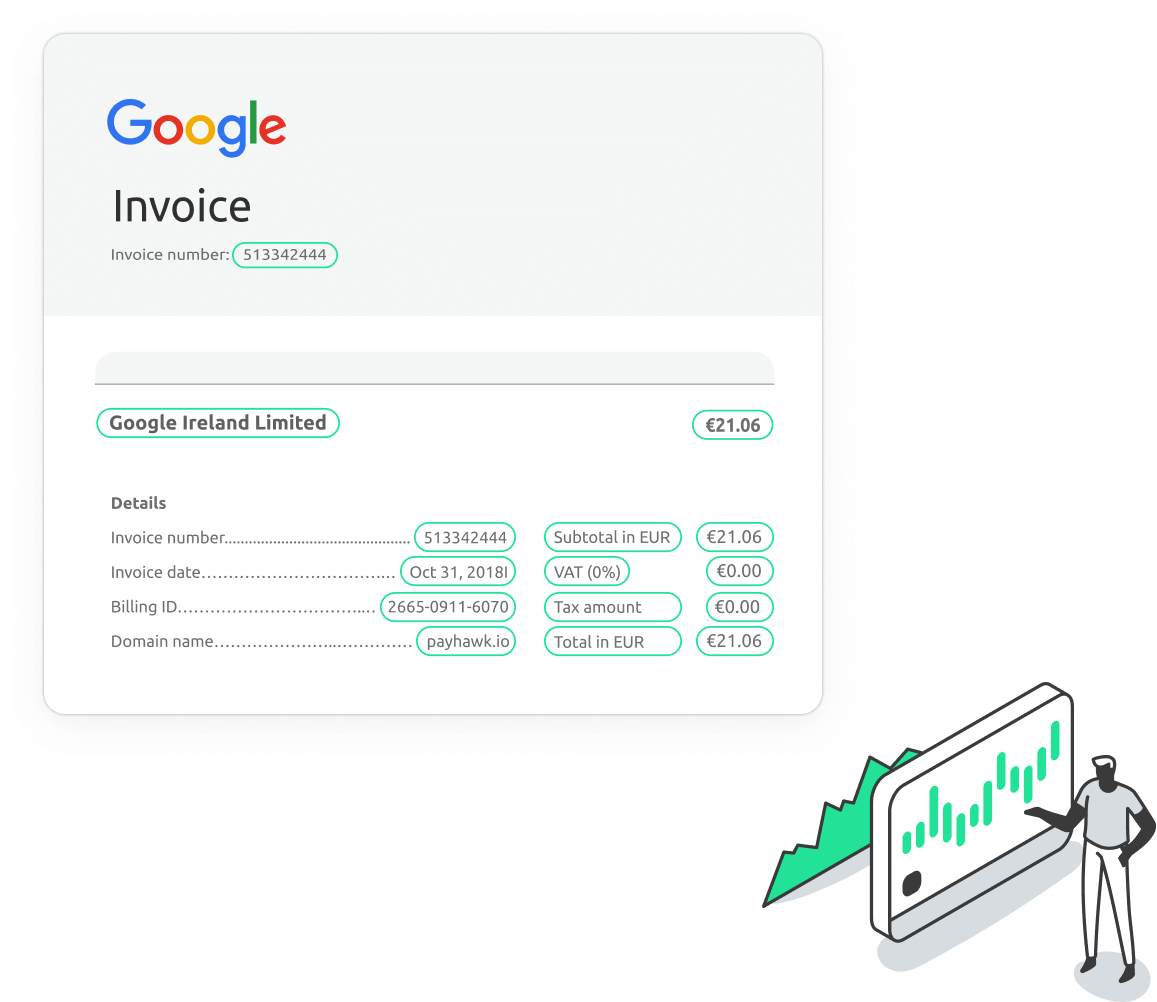 Automate
Pre-accounting OCR that reads 60+ languages
Automatically reconcile and extract data from invoices in more than 60+ languages. Leverage a powerful OCR with machine learning that learns from your input to automate manual data entry.
Control and visibility of every payment
Set your payments on auto-pilot. Payhawk organizes invoices, extracts all data, runs a multi-level approval workflow, prepares transfers, and finally pays with SEPA Instant and Faster Payments.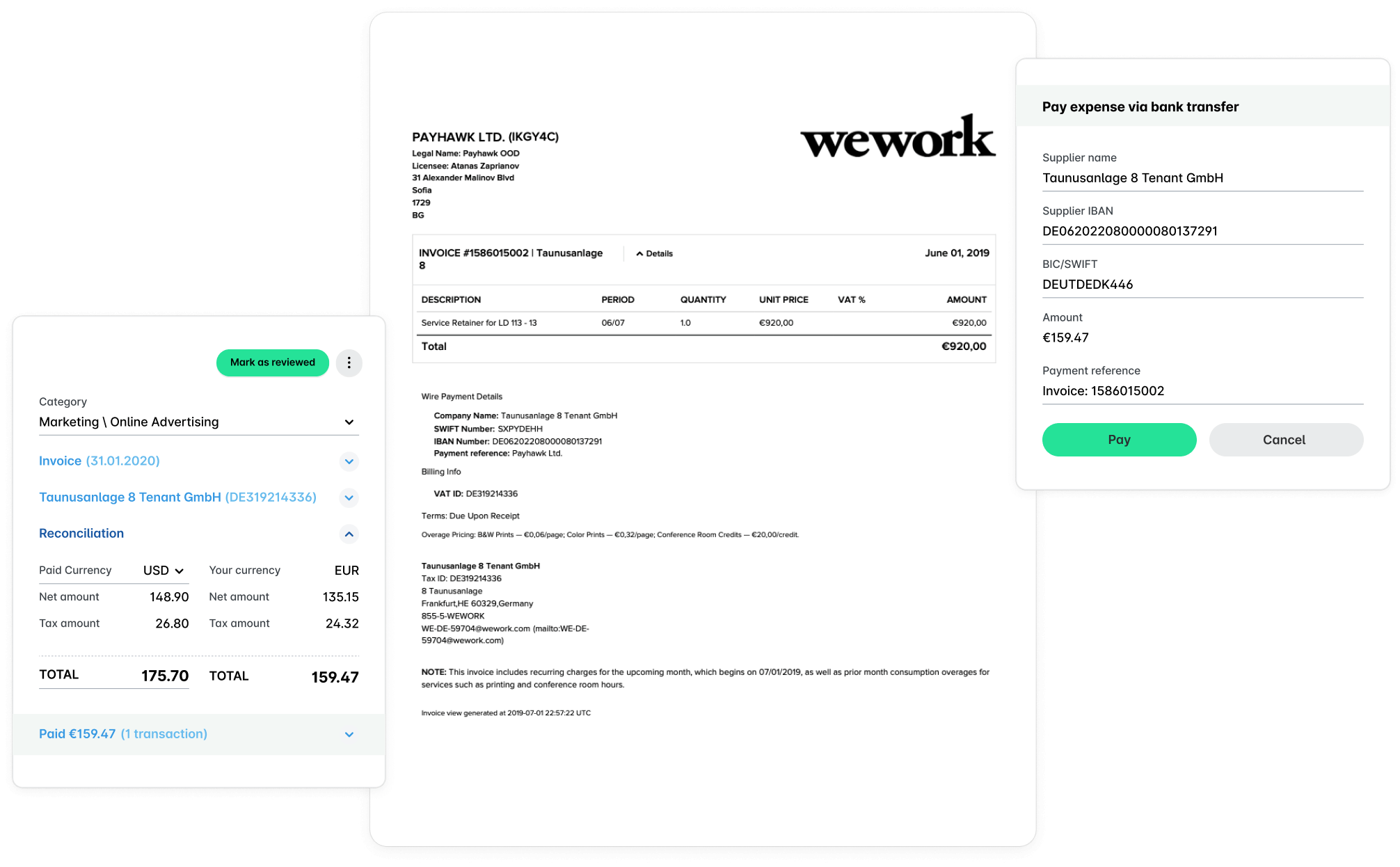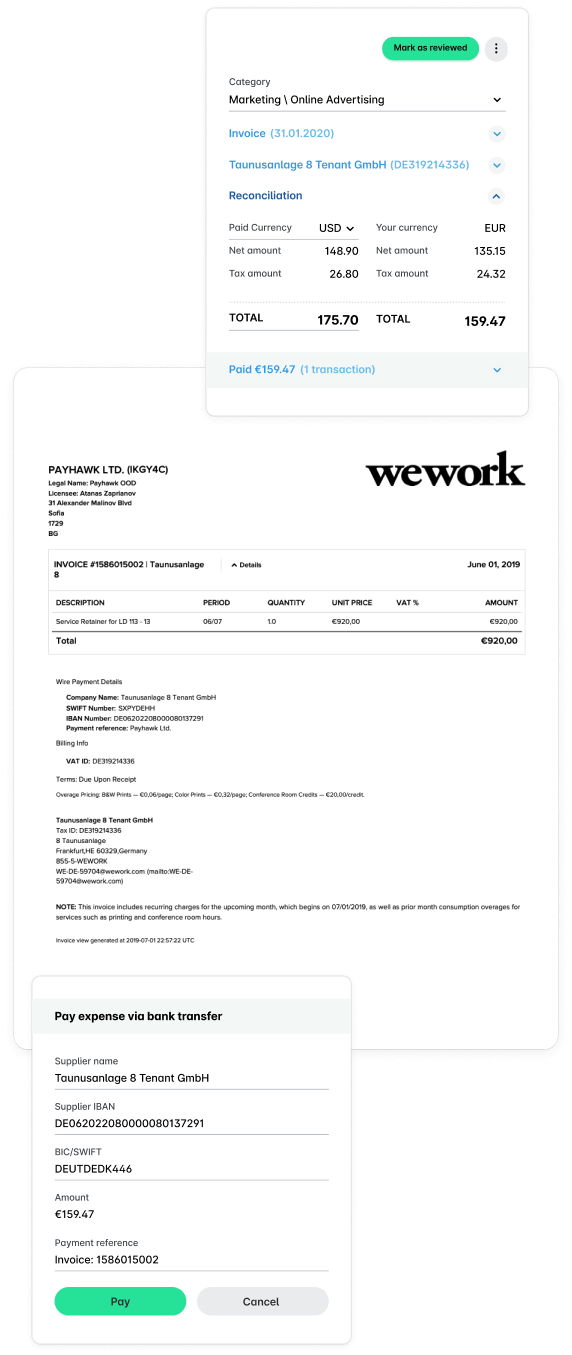 Card payment
Bank transfer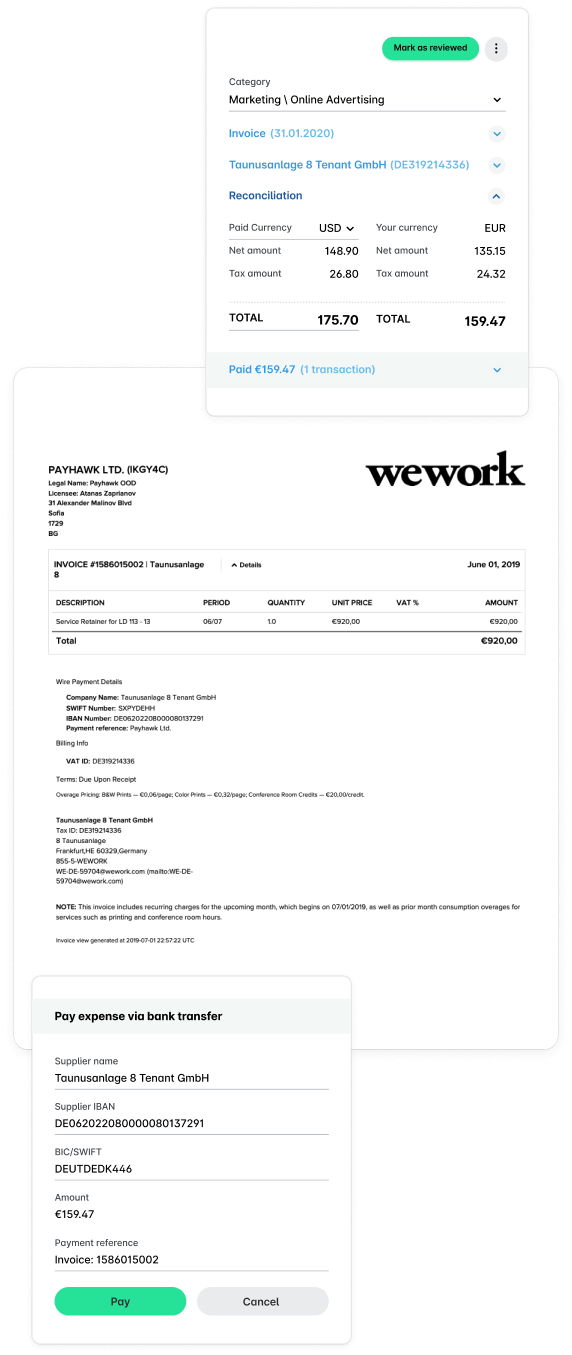 Card payment
Bank transfer
Control
Control
Set your payments on auto-pilot with a financial system that organizes invoices, extracts all payment details, prepares your transfer and runs a multi-level approval workflow.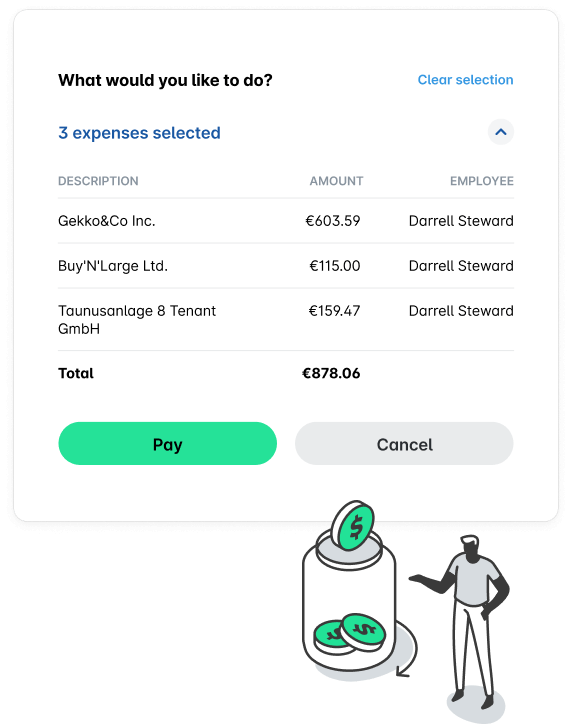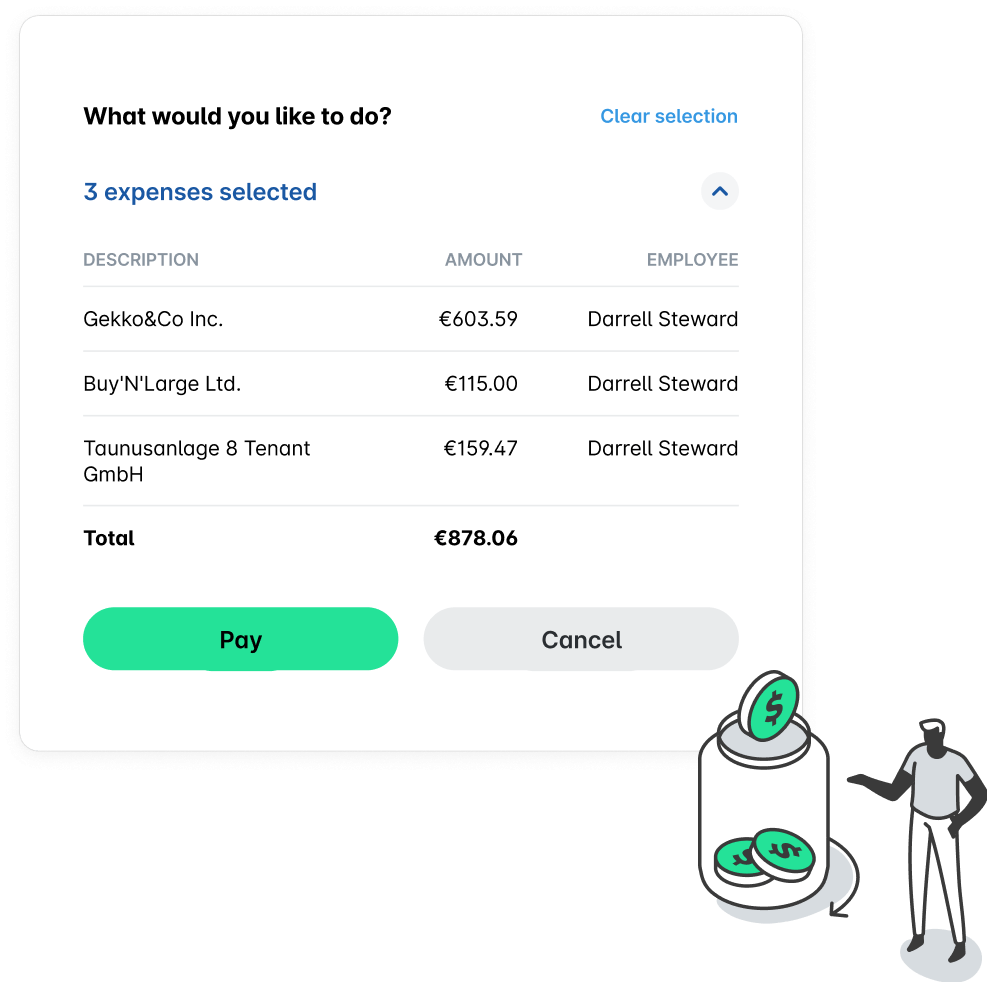 End to end
Reimbursements
Manage out of pocket cash and approvals for employees that don't have the next generation company card by Payhawk. Use one-click to reimburse employees directly to their bank account.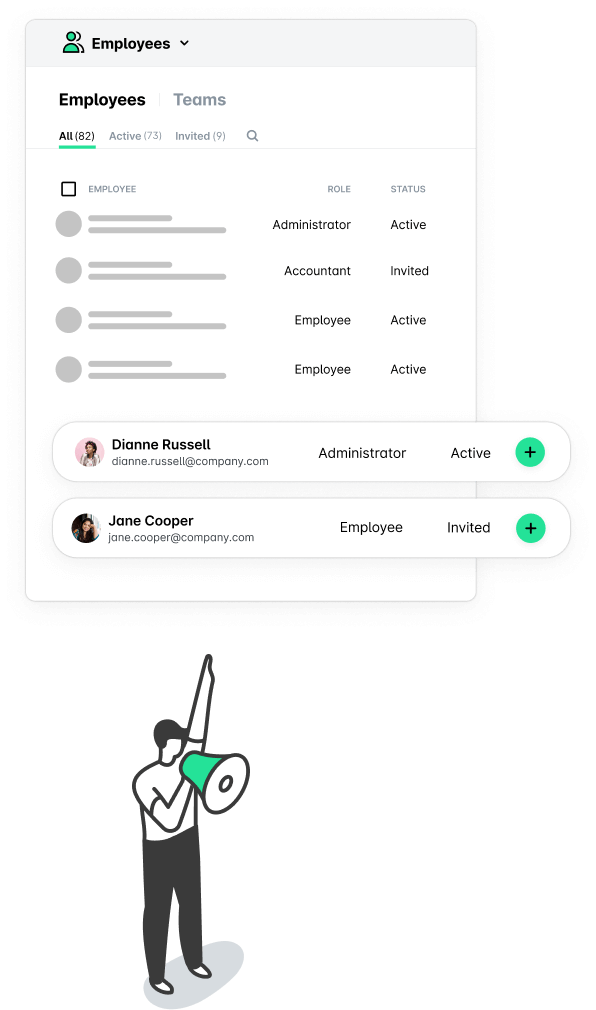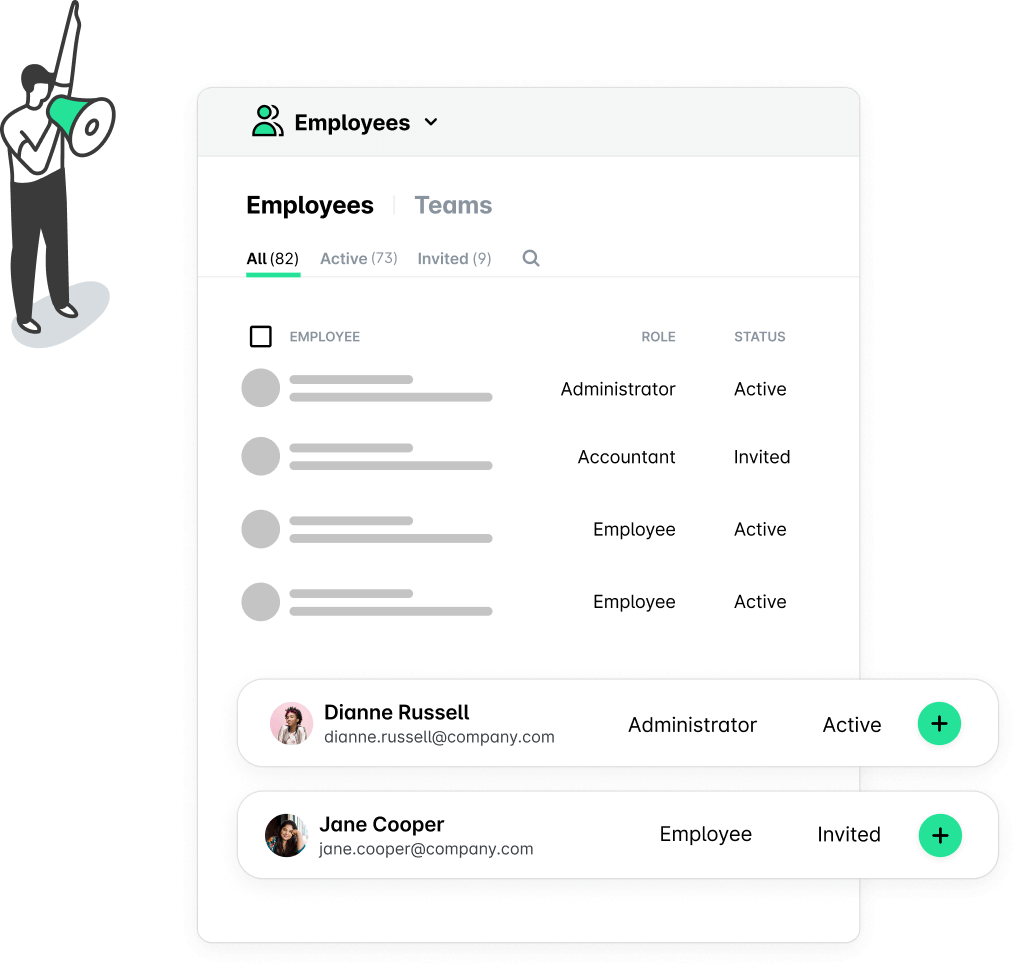 Friendly
Invite
Invite all of your team to Payhawk, free of charge. Your accountants have access to all the information they
need to reconcile your month with no extra fees.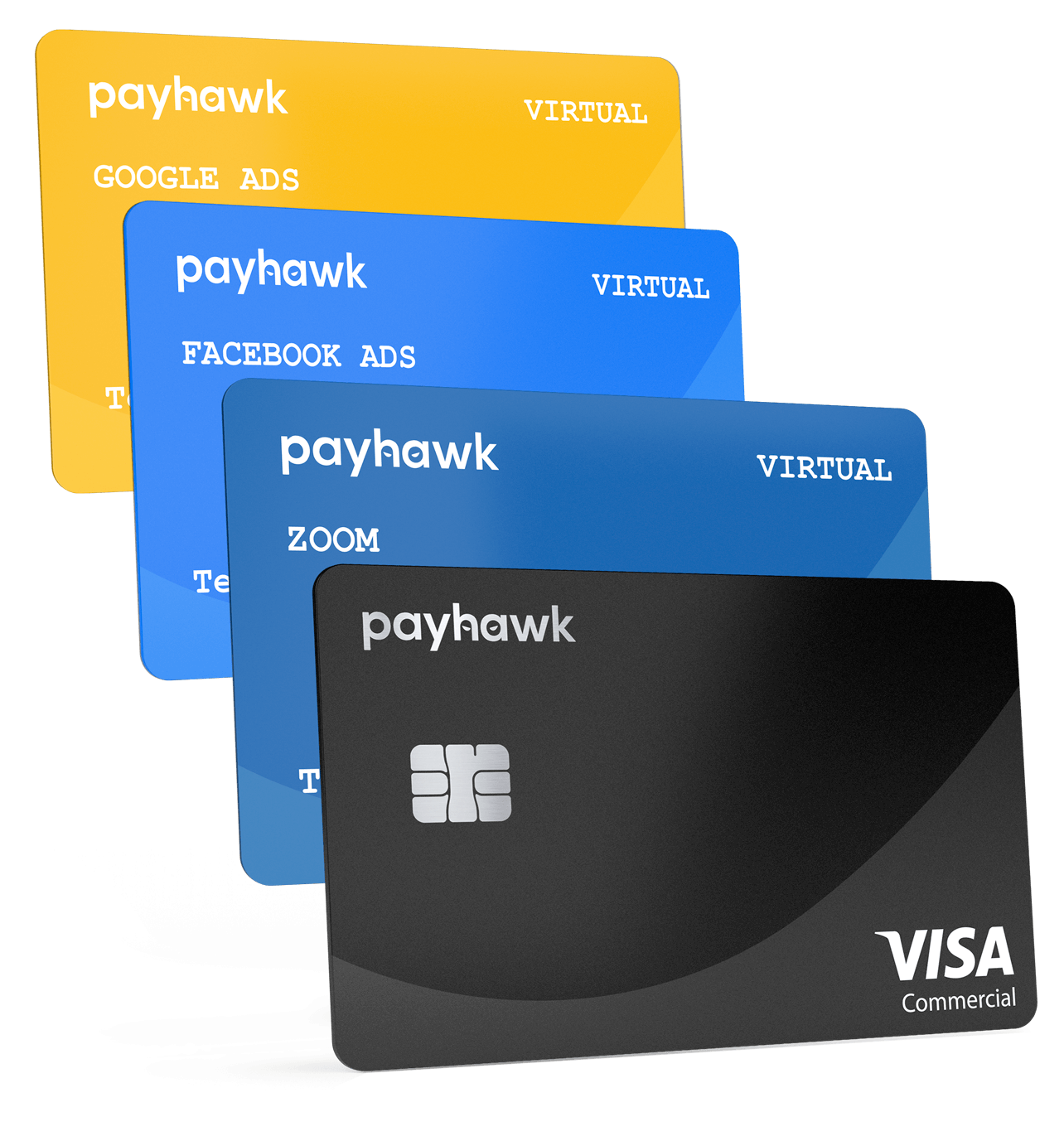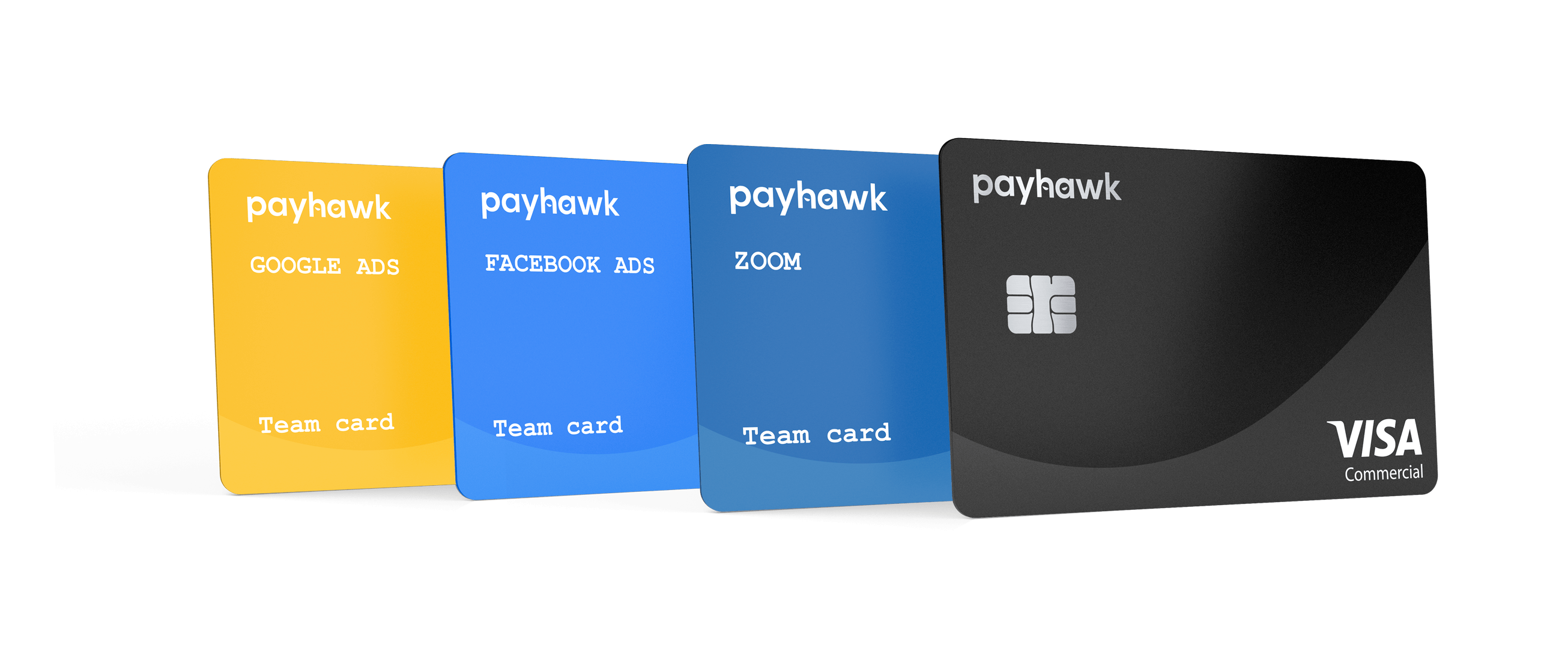 Structure
Team Budgets
Issue team cards with shared budgets for subscriptions, projects or initiatives. Each employee receives unique card number linked to the team budget. Empower your employees while staying in control.
Controlling company spend with over 550 branches
Why ATU chose Payhawk to help their digitalisation dreams come true

Sebastian Jarantowski
CFO at ATU
Go paperless with a digital archive
Remove the assembly line of paperwork and the use of multiple disconnected systems to run a smooth digital experience directly to your accounting system. Payhawk has a live feed to Xero and export to ERP systems like Microsoft Dynamics and SAP.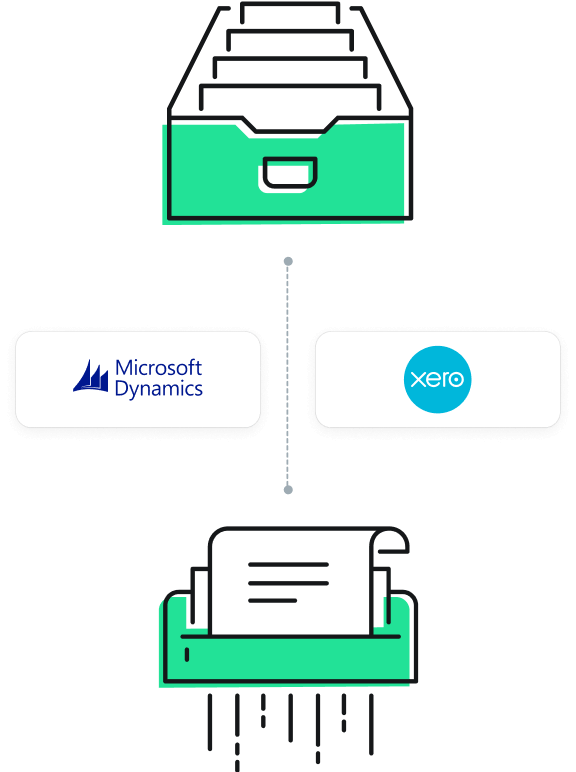 One solution for your international expansion
Use a single solution to run your pan-European expansion. You can use Payhawk for any business registered in the UK and all European Economics Area countries.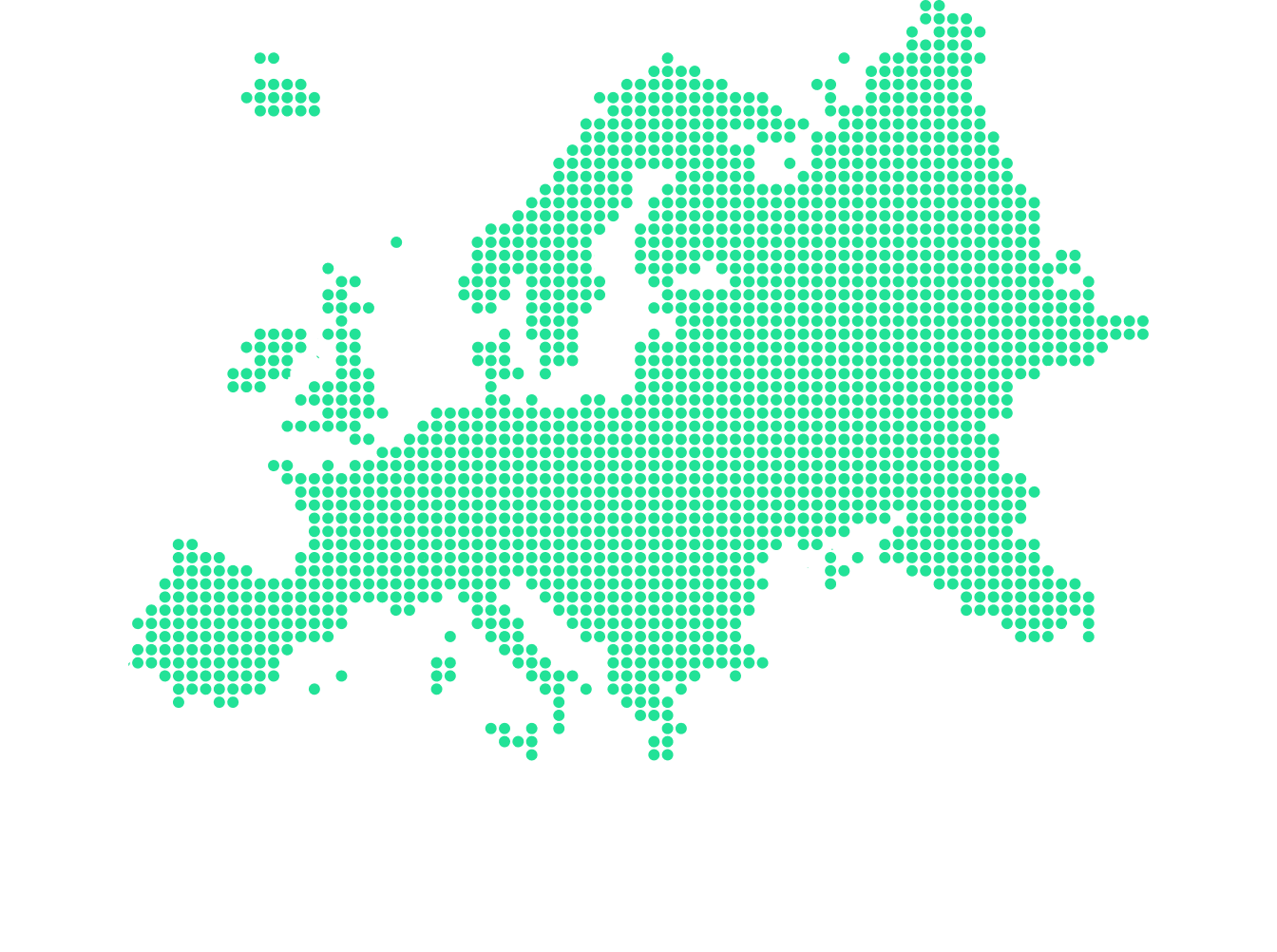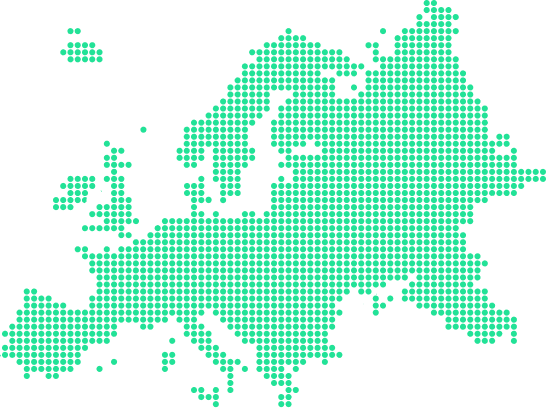 Works smoothly with your systems
No more manual or paper-based processes
What CFOs often ask about.
What is in the package?
Payment accounts in EUR and GBP with your own dedicated IBANs. You also get a cloud-based web portal, mobile app for employees, and NextGen Visa Commercial Cards.
Who can sign-up?
Any business incorporated in European Economic Area (EEA), including NGOs, educational & governmental institutions.
What type of card is issued?
Your Payhawk card is a credit class Visa Commercial Card. Unlike prepaid cards, Visa Commercial is accepted worldwide via one of the most accessible global card networks including car rentals, accommodations, and digital advertising platforms.
What are the fees?
There are no hidden fees. You get up to 4 times better exchange rates than your bank, and you only pay for your cards.
Is it safe?
Payhawk has bank-level security PCI DSS Level 1. Your payment account is held with e-money institutions pursuant to license from Visa and authorised to conduct electronic money service activities under the Electronic Money Regulations 2011
Do I have to keep the paper?
Payhawk is certified with the local Tax authorities in several European countries where you are able to throw away the paper.