Booking business trips can be a hectic experience jumping across multiple platforms. TravelPerk is a full-service travel management platform that combines the best of consumer and corporate travel to give travelers a smooth, reliable experience and companies – compliance and control.
The integration with TravelPerk aims to streamline the payment process by automatically retrieving TravelPerk invoices and all of its data directly to Payhawk. All TravelPerk expenses paid with Payhawk cards will appear automatically in the Payhawk portal. The TravelPerk integration is available now for all Premium and Enterprise customers. It can be enabled with 1 click by any administrator through the Settings using the Travelperk integration button. Our mission at Payhawk is to simplify company spending and empower your employees with next-generation company cards that do all the admin work for you, and we are making this one step closer with Travelperk.
Automatic expense matching
Payhawk's commercial debit cards allow hundreds of frequent travelers to cover car rentals, hotels, dinners, and everything else related to their business trips with ease. Now with TravelPerk, we automate the reconciliation process by reducing time and margin for error. All you need to do is connect your Payhawk account to TravelPerk. Every transaction made with the Payhawk card will be automatically matched to the corresponding invoice with all the expense data for your trip and accommodation.
In summary, all you need to do is follow these simple steps:

Clever invoice grouping
The integration also comes with the ability to recognize invoices with different VAT amounts and group them together. This means that you can make one payment for a flight ticket and a hotel to your business trip and our system will recognize that these expenses have different VAT amounts. It will then separate them by calculating the correct tax for each line item in your purchase. The ability to recognize the VAT regime right from the TravelPerk invoices makes it much easier to reclaim VAT on business trips and save up to 20% to your organization.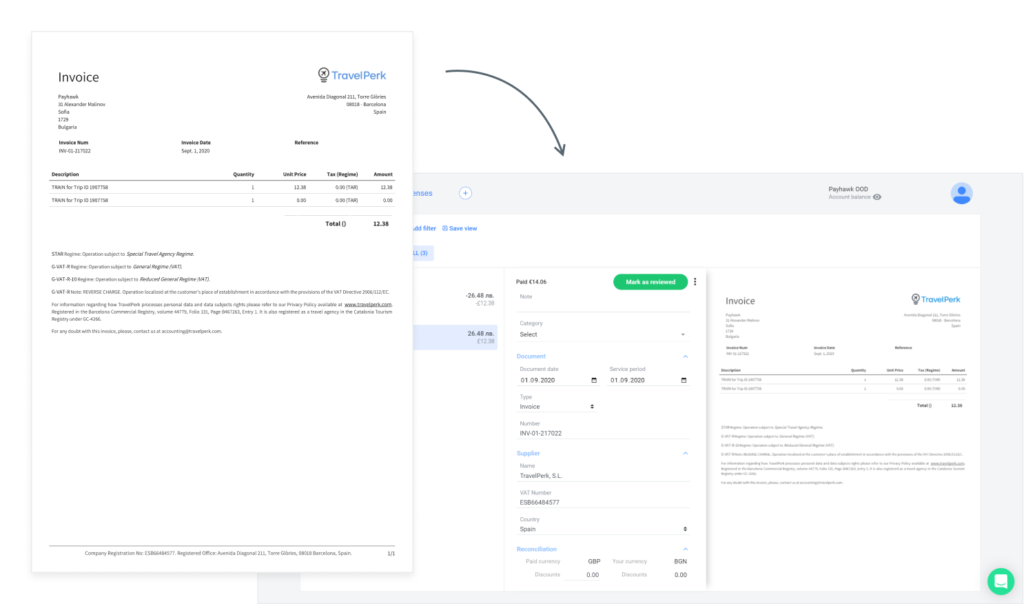 You can read more about the integration in our help center. If you have any questions on how to use these features, don't hesitate to contact us directly.
Happy spending! 💳