Requests for funds
Lack of funds on cards is the most common reason why transactions don't go through for Payhawk cardholders. In the past, employees had to reach out to their financial teams to request an increase in their spending limit via email or Slack. With the addition of Requests, employees can now request funds directly from the Payhawk mobile app and track the approval progress.
To control company spending, finance managers have the ability to define automatic approval for requests for small amounts and set a manual approval process for large amounts by a finance manager or a team lead. The person responsible for the approval is notified with a push notification and details of the request.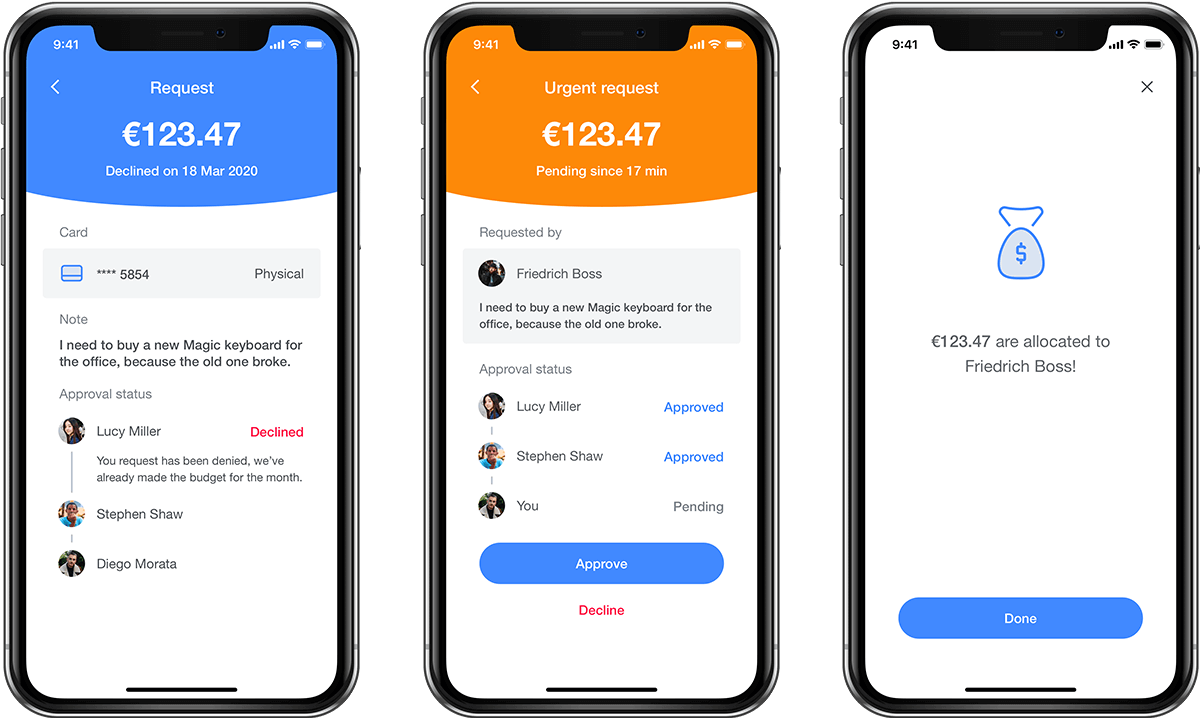 The Requests feature is available from today for all Premium and Enterprise Payhawk customers. It can be enabled on an individual card level using the Allow fund requests toggle visible in the Settings screen.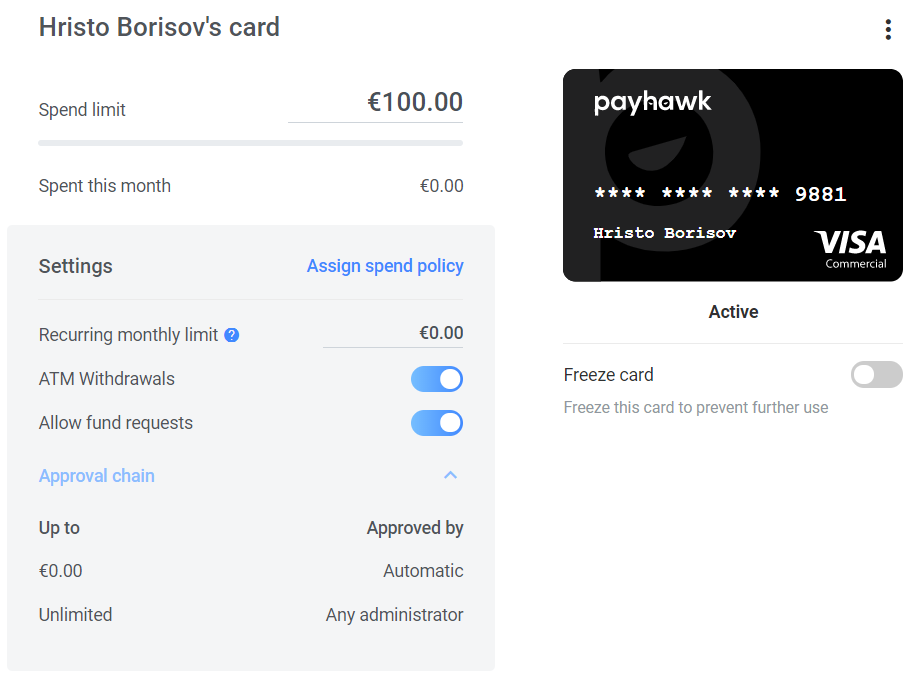 The Requests feature is especially useful when you have a zero spending policy and control every spend request on a case by case basis without the need to handle requests and approvals over lengthy Slack conversations and email threads. All requests and approvals are securely logged to provide an audit trail for future reference.
Spending policies
We are also introducing the ability to manage multiple cards with a group spend policy to easily configure limits and card settings for Executives, Managers, and Employees. With this new feature, you can group card level controls such as recurring limits, ATM withdrawals, and approval chain for requests and manage all cards in bulk without the need to deal with individual card controls.
You can also define a limit for automatic approval on requests that is helpful if you don't want to bother administrators and the finance team for small requests under a certain amount. If you want to have a super rigid spending policy, you can set a zero recurring limit for your employees, and approve every request as it comes through the system.
You can define the following features on a spend policy level:
Recurring monthly budget to be available on each card at the beginning of the month

Enable or disable ATM withdrawals for physical cards

Approval chain for Requests with a flexible automatic top-up for small requests
You can read more about Spending Policies in our help center. If you have any questions on how to use these features, don't hesitate to contact us directly.
Happy swiping!💳