In Europe, digitization is a hot topic overall and is one of the Commission's six priorities for 2019-2024. Moreover, last year the Commission also set some digital goals for 2030, where businesses became a centerpiece in the digital transformation. 
In order to measure digitization and competitiveness among its members, the EU developed the Digital Economy and Society Index (DESI). DESI is a set of 40 indicators measured since 2013 and comprises five dimensions: connectivity, human capital (digital skills), use of the Internet by citizens, integration of technology and digital public services. 
Are you curious to know how the different nations are performing? The figures below are taken from the 2020 DESI report and reveal some big differences among EU members (and within the countries themselves).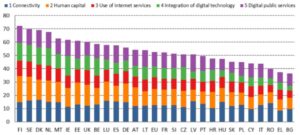 Business digitization
When we narrow it down, business digitization is as simple as adopting digital solutions across business functions (marketing, management, HR, etc.). It's the digital reworkings of processes and tactics that allow companies to improve their productivity and competitiveness. But also helps them prepare for the digital wave and not get left behind.  
The DESI report mentions how many businesses are slowly adopting advanced digital technologies such as AI, cloud computing, the Internet of Things and Big Data analysis. Some of these might sound too advanced for SMEs and startups, but the study shows that their adoption is actually much lower in big enterprises. 
But, besides AI, the cloud, etc., what other digital technologies can act as the surfboard to hop on the digital wave? The report mentions installing ERPs and CRM systems, using social media to promote your company and attract talent, and using online platforms to sell your products. 
Of course, another way to become more digital is by eliminating cash and paper in your business. Both of these trends have skyrocketed during the past year in response to remote working. So, let's dig a bit more into that.
Why a cashless business?
If you run an online business, you might think we're talking about ancient times when customers and businesses used coins and notes to pay for products and services. However, many companies still manage their petty cash as their great grandparents did, with a safe or a locked box and key.
Today, thanks to company cards, digital wallets and expense management software, access to company funds is streamlined and digital. But there are many more benefits of becoming cashless, including:
Safety. Operating a cashless business will reduce the risk of theft and mismanagement among team members. Having no cash in your office also decreases the company's insurance price.
Efficiency. Companies that eliminate cash in all their business functions save time as counting and managing cash is very manual. It also helps accounting teams to close their books quicker every month and with a low chance of human error. 
In the big picture, it allows CFOs and CEOs to make strategic decisions faster with weekly projections and have liquidity. Finally, it avoids overdue payments.    
Transparency. A cash-free business enables transparency as all of your gains and losses are digital, which allows you to be 100% transparent. Transparency is essential for audits and other kinds of business scrutiny. It can also show your investors a very healthy and up to date cash flow. 
Compliant. All companies hate tax processes, and it gets worse when you have cash. Having only digital transactions will help you file taxes in no time with very low levels of error. 
Convenience. Your team will love having company cards instead of cash. It helps them to stay agile. They won't need to worry about carrying cash or running to the closest ATM.
Paperless. One other major benefit of using company cards and expense management software is that you eliminate the need of keeping invoices and receipts on paper. 
Over the past few years, companies have eliminated paper in most of their business functions except for bookkeeping. But that's slowly changing. In this blog, our CEO, Hristo Borisov, explains how countries in the EEA have introduced paperless regulations, such as Spain, France and Germany, allowing businesses to digitize their invoices and receipts with certified software from the authorities such as Payhawk. 
Read our ebook to learn more about going cashless and why it's so crucial for your company. The ebook even comes with a super handy checklist on how to become cashless when you're ready.